The Echelon Global Chat Channel

The Echelon Global Chat Channel is a Global Chat Channel for all members of The Echelon and Evil Echelon.

The global chat channel is a hub for supergroup activity and where most of the group chat and activity takes place. It's a great place to get to know other SG members and to arrange and get involved in Echelon and Evil Echelon teams, events and acitvites, ask for advice, share information or just chat for fun.



The Echelon Global Chat Channel is a private channel and only accessible by invite. To join, please contact one of the Channel Operators:

@Mighty'

@Evil Thistle

@Fire Flux

@Raz

@Mr Nice

@Prov

@Callista

@Shadow Kitty

@Plasmarch

Once you have access to the channel, edit one of your chat windows to add and view the channel.

Right click on the chat window, select "Edit".
Select "The Echelon" chat channel and click "Add".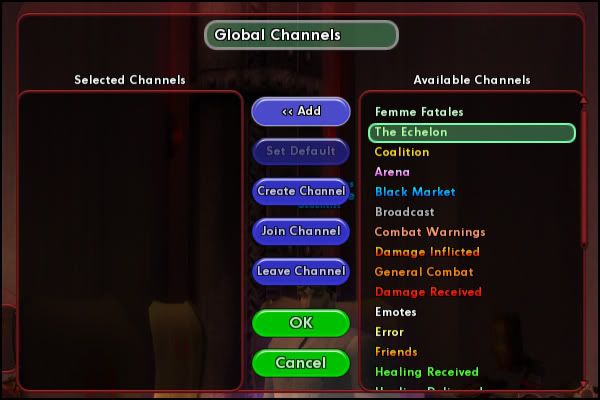 Click "OK" to save the change.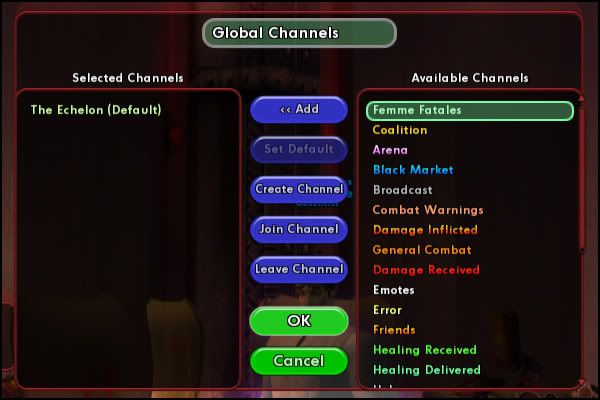 Alternately you can click on any of the extra chat tabs, 1 to 4, and follow the instructions to add The Echelon channel in a seperate tab.
To chat in the channel you need to set your active chat channel to "The Echelon". This is set in the tabs menu.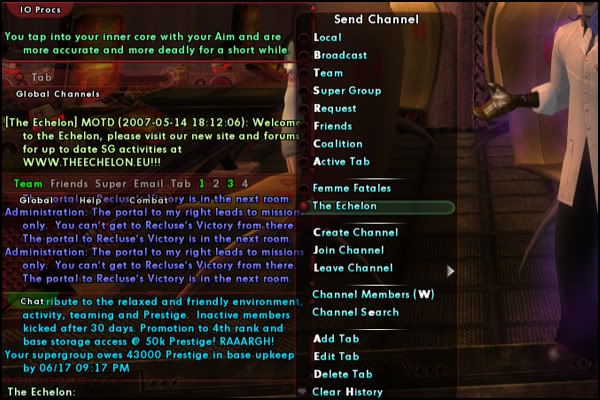 A single button bind can be used to trigger and send chat to the channel with much more ease than selecting or changing your active chat channel.
Most Echelon players use a bind that also identifies the current character they are playing and what server, level and whether a hero or villain:
/bind (button) beginchat /send "The Echelon" [$name:D:=H:L$level]
Simply copy the bind and paste it straight into the chat tab in City Of Heroes/Villains.
Replace (button) with any button of your choice which you will use to send chat in The Echelon channel.
In the default bind "D" = Defiant. Replace as neccesary for any other server.
In the default bind "H" = Hero. Replace as "V" for any Villain character you play.
Add a space at the end of the bind before pressing enter and setting it as active.
Once the bind is set, simply press the button you chose to trigger the bind. A string of text will appear. Simply type your chat at the cursor and press enter.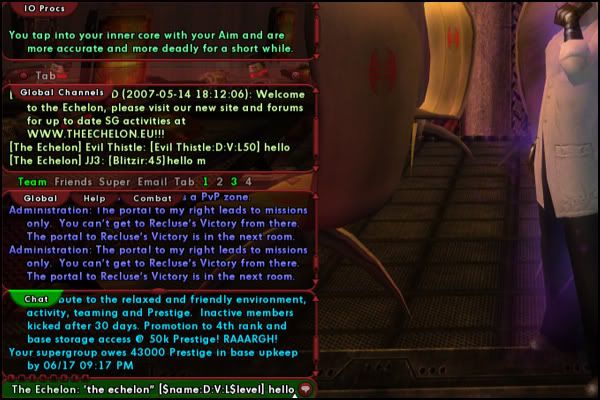 The atmosphere in The Echelon and Evil Echelon groups and chat channel is relaxed, laidback and friendly. Please do your part to keep it this way. Have fun and be friendly to all your Echelon colleagues.
No personal attacks, abuse, profanity, abusive language, racial, religious, ethnic, or sexual slurs are tolerated at all. This includes any City Of Heroes and Villains players or groups outside The Echelon groups and within it.
Please refrain from any naming and shaming, and/or pointing out any other players or groups for ridicule, abuse or harrasment. No one likes bad attitude, negativity, egos or snobbery and it isn't welcome in the Echelon.
Please note that at later evening times chat and subject on the Echelon global chat channel can be fairly adult orientated and may or may not be suitable for younger aged players.
Please try to keep it clean till at least 9, and keep swearing and obscenties to a minimum at all times.